Choosing a Pediatrician for Your New Baby Q&A
While choosing a pediatrician for your newborn baby, consider a well-reputed pediatric clinic like KidsHealth Pediatrics. We have a team of experienced pediatricians who specialize in the care of children from newborns to age 18.

Call us

today or book an appointment online. We have convenient

locations

in Scottsdale, and Glendale, AZ.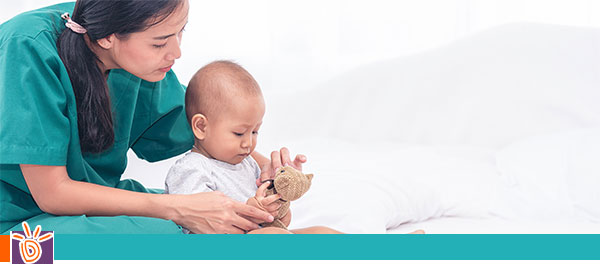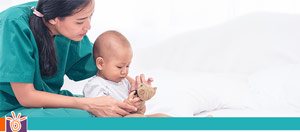 Table of Contents:
How soon after birth does a baby see a pediatrician?
What do pediatricians do for newborns?
Why are pediatrician visits important after the baby is born?
When should I pick a pediatrician for my newborn?
KidsHealth Pediatrics is a high-quality pediatric clinic located in Scottsdale and Glendale, AZ. Our team of medical professionals is proud to offer many amazing services including physical exams, screening, lab testing, immunizations, chronic illness management, sports injury care, and more. The pediatrician at KidsHealth Pediatrics has the training, experience, and knowledge to offer top-notch care to each one of our patients. Our pediatrics clinic is incredibly grateful to serve such a wonderful community of families! For healthy development, your child should begin seeing a pediatrician as a newborn. Below is everything you may need to know about choosing a pediatrician for your new baby!
How soon after birth does a baby see a pediatrician?

We recommend you schedule an appointment with a pediatrician right after your baby is born. After giving birth, the hospital will run initial physical exams to ensure your baby is in good health. About three to five days later, your newborn should be visiting a pediatrician. During this visit, your doctor will examine your baby's overall health and well-being, check-in with the parents, answer any questions, and help you plan for future visits. Your pediatrician will likely schedule you for a visit 2-3 weeks later because this is a very crucial time in your newborn's life. Monthly physical exams can help prevent numerous health conditions and developmental issues.
What do pediatricians do for newborns?

During your and your baby's first visit to a pediatrician you can expect the following:

• A brief question period when your pediatrician will ask you a few simple and important questions about you and your baby's personal and medical history
• A thorough physical exam that will include a neck and collarbone, head, genitalia, reflex, pulse, and hip examination
• The second period of questions regarding your baby's health including their sleeping, pooping and eating patterns
• During the end of your appointment, you can ask any questions you have about your newborn's health and next visit
Why are pediatrician visits important after the baby is born?

A visit to a pediatrician is extremely important after your baby is born. This is a fragile time in your infant's life and a visit to the doctor will help make sure your baby is doing well. Seeing a pediatrician in the first week can minimize the risk of your baby developing illness, promote proper growth, and help both the baby and parents adjust to this new and exciting time.
When should I pick a pediatrician for my newborn?

KidsHealth Pediatrics advises you to meet with a few pediatricians before you give birth. During the 30th week of pregnancy, you should start looking for a good doctor to support you through the beginning stages of birth and parenthood. When looking for a pediatrician that works with your family, ask the following questions:

• What credentials does this pediatrician have including their education, experience, and training?
• Do their office hours work with your own schedule?
• Is the pediatrics clinic associated with a nearby hospital?
• Does the clinic have vaccination policies that align with your child's immunization records?
• Does the clinic accept your insurance policy or offer affordable alternatives?
• What services and treatments does the clinic provide?
• Do you feel comfortable with this pediatrician? Do you connect with them and trust their medical recommendations?
• When choosing a pediatrician, go with your instincts!

If you're looking for a pediatrician in Scottsdale or Glendale, AZ, KidsHealth Pediatrics is currently accepting new patients. We would love to see you in our clinic and support you through your motherhood journey. Bringing home a new baby can be overwhelming but with the right support from friends, family, and medical professionals, your baby will thrive. For further information about infant care at KidsHealth Pediatrics, please don't hesitate to give us a call or schedule an appointment with our specialist. We look forward to your visit and can't wait to help you and your child stay happy and healthy! For more information, call us or schedule an appointment. We have clinics located in Glendale and Scottsdale, Arizona, to serve you well! We serve patients from Glendale AZ, Scottsdale AZ, Tempe AZ, Mesa AZ, Paradise Valley AZ, and Phoenix AZ.

Additional Services You May Need
---