Skin Care Tips for Children and Teens in Scottsdale, AZ and Glendale, AZ
Learn More About Skin Care Tips for Children & Teens. If You Have Questions or Concerns About Sun Safety, Do Not Hesitate to Contact KidsHealth Pediatrics. 

Please Call

 or 

Request an Appointment Online

.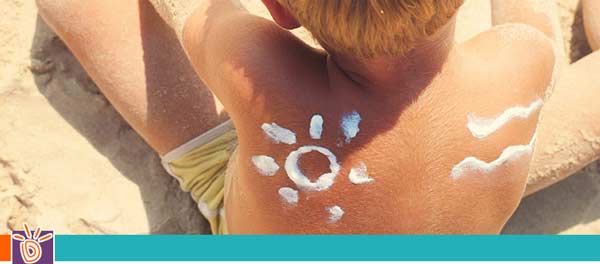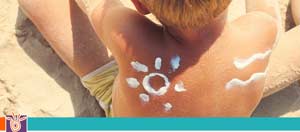 Protect Your Child's Skin This Summer
No parent wants their child sick and uncomfortable from summer heat, sun and bugs. So, your Scottsdale, AZ, pediatrician, Dr. Maria Nabong, urges parents to prepare for the seasonal skin discomforts which come with summer fun. Just a bit of prevention will protect your child's skin whether at home in your yard or at your favorite campground.
The Heat Is On
High summer temperatures and humidity really can irritate your baby's or small child's skin, forming a red, bumpy rash at the back of the neck, underarms and other sweaty areas of the body. Your grandmother probably called it prickly heat or heat rash. The medical term for it is Miliaria, and Grandma's common sense prevention is still best: dress your little one in loosely fitting, lightweight, breathable clothing. A hat and sunglasses shield against those strong UV rays. Stay indoors in a temperature-controlled environment, or camp out in a shady area when outdoors. If your child gets a very uncomfortable heat rash, contact KidsHealth Pediatrics for additional help.
The Sun Is Out
The American Academy of Pediatrics maintains that even one serious sunburn doubles a child's chances for developing skin cancer later in life. So, while we all enjoy that hot summer sun and time at the pool, covering up babies and kids remains the rule. Long sleeves, lightweight pants, sunglasses, hats and limited sun exposure between 10 am and 2 pm avoid the redness, discomfort and blistering of too much sun. Parents, seek shade or the indoors during those hours. Babies younger than 6 months of age should be kept out of direct sun altogether.
Also, apply sunscreen–SPF (sun protection factor) 15 or higher, and reapply as needed according to product directions. Your Scottsdale pediatrician says to remember that swimming washes sunscreen right off your youngster's skin; so be attentive to replacing that protective lotion or spray as needed.
The Bugs Are Biting
Mosquitoes, black flies and ticks commonly infest campgrounds and backyards, targeting kids with painful and itchy bites. Prepare your children accordingly when they're playing or hiking in the great outdoors:
Wear loose fitting clothing (long sleeves and pants are a must)
Don shoes and socks (no sandals in the woods)
Avoid strongly scented soaps or perfume that attract insects
Also, apply a quality bug repellent. Products containing Deet or Picardia are fine for children over the age of two months. Some natural preparations containing citronella, peppermint, lemongrass or cedar wood work well, too, when applied according to the directions. All insect repellents should be washed off when you return indoors. Plus, remember that any bug spray or lotion does not protect against bees, wasps and ants. So be on guard against these pests.
Plan Ahead
Dr. Nabong and her team at KidsHealth Pediatrics wish you a summer full of fun. If you have concerns about skin care and protection, please contact our office today.
Teens & Tanning: Why the Risks Far Outweigh the Benefits
As the skin cancer rate continues to rise, many of us can't help but wonder why people continue to expose themselves to harmful ultraviolet (UV) radiation. A tan, whether it's acquired from the pool, in a salon or through incidental exposure, is always dangerous.
The use of tanning beds today is an especially common practice among teenagers, specifically the female population. What many young girls don't realize, however, is that the bronzed image they so desire is only the skin's visible reaction to damage from harmful UV rays. Melanoma, the most aggressive form of skin cancer, is now the second most common cancer seen in young adults. According to the American Academy of Dermatology, nearly 28 million people tan indoors in the United States annually. Of these, 2.3 million are teens. Their findings go on to report that 70 percent of tanning salon users are Caucasian girls and women, primarily aged 16 to 29 years.
Skin cancer aside, basking in UV rays—indoors or outdoors—also leads to premature aging of the skin. That means that even just a few minutes of exposure each day over the years without protection can cause noticeable changes to the skin later in life. Freckles, age spots, leathery skin, wrinkles, saggy skin and uneven skin tone can all be traced to UV exposure.
The good news is that skin cancer and premature aging of the skin can easily be prevented. For one, stay away from tanning beds. Pediatricians also recommend that children and teens wear proper clothing, hats and sunglasses when outdoors. Always use sunscreen and avoid exposure during peak hours of 10 a.m. to 4 p.m.
Parents should pay special care to protect their kids when playing outdoors. Here are a few simple tips to prevent overexposure to the sun:
Protect infants
Keep babies younger than six months out of direct sunlight, protected by the shade of a tree or an umbrella.
Seek shade
When possible, find a shaded area or take a break indoors to avoid sun exposure for extended periods of time.
Limit outdoor play
UV rays are the strongest between 10 a.m. and 4 p.m., so it's best to avoid unnecessary exposure to the sun during midday.
Cover up
Protective clothing that cover the arms and legs and wide brim hats can keep kids protected from sun damage.
Always apply sunscreen
Choose a sunscreen made for kids with a SPF (sun protection factor) of at least 15. Apply to all areas of the body and reapply every few hours.
Sunburn is an obvious sign of sun damage, but a child doesn't have to get a burn to experience the negative consequences of too much exposure to the sun. The effects of chronic sun exposure can also contribute to wrinkles, freckles, toughening of the skin and even cancer later in adulthood. In fact, according to the Skin Cancer Foundation, just one blistering sunburn in childhood more than doubles a person's chances of developing skin cancer later in life.
As the saying goes, "An ounce of prevention is worth a pound of cure." By setting good examples and teaching kids the importance of sun safety now, parents can significantly lower their child's risk of developing skin cancer and other signs of sun damage as an adult.
Always talk to you pediatrician if you have questions or concerns about sun safety and prevention.

Additional Services You May Need
---

Additional Services You May Need
---