Best Pediatrician Near Peoria, AZ
Dr. Nabong and Pediatric Staff Provide a warm and friendly environment for your child as they are seen for their check ups. Receive attentive and high quality care at KidsHealth Pediatrics. For more information, 

call us

 or schedule an 

appointment online

.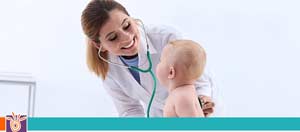 When it comes to finding a doctor for your child, you want to make sure you are seeing the best pediatrician available. At KidsHealth Pediatrics, we are proud to serve our community by offering a full range of pediatric services for children and families. We take great pride in what we do and hope you will entrust us with providing complete medical care for your child. We take your child's health as seriously as you do and work hard to provide comprehensive services for you and your family in an environment that is calm and welcoming.
At KidsHealth Pediatrics, our dedicated pediatric staff offers a broad range of services from newborn care to physical exams through the age of 21. We have the knowledge and experience you want in a pediatrician, so you know we can offer you informed advice and support when it comes to your child's healthcare.
Pediatric care is incredibly important because it creates a foundation for your child's health for many years to come. At KidsHealth Pediatrics we strive to create a comfortable environment for our young patients as well as their parents. We know that coming to the doctor can be a stressful experience, but we work hard to mitigate any discomfort or anxiety by providing the best pediatric care available in a space where you and your child feel safe as well as expertly cared for.
At KidsHealth Pediatrics, we understand that it's a privilege to be your pediatrician. Medical care for newborns, children, and adolescents is different from treatment for adults, so you need an experienced doctor who specializes in pediatric medicine to ensure your child receives the best care.
Choosing the best pediatrician is important because they will not only treat your child in the event of a specific illness or injury, but they can also serve as a guide for proper nutrition and screenings and offer appropriate support for parents as they navigate their child's development. A great pediatrician can be a partner and an asset for children and their families. At KidsHealth Pediatrics, we pride ourselves on being a resource for parents who have questions about their child's health. We work hard to build positive relationships with the families we work with to ensure open and honest communication that can improve the overall quality of the medical care your child receives.
Kidshealth Pediatrics is proud to serve the community by providing the best pediatric care and support to children and their families. If you are looking for the best pediatrician near Peoria, AZ, look no further than Dr. Nabong and her dedicated team. We would be honored to provide quality pediatric care for your child, so please call our office for our Scottsdale and Glendale location, or schedule an appointment online today.

Additional Services You May Need
---

Additional Services You May Need
---